Yellowstone Lodging - West Yellowstone, Montana Activities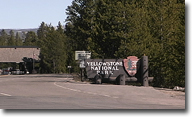 West Yellowstone, Montana (6,600') is the largest gateway community to Yellowstone National Park. It has a year round residential population of about 1,200. It is limited in growth potential since it is surrounded by Yellowstone National Park and national forest. Most residence consider that a very good thing. If you divide it by seasons, it has 2 seasons, spring, summer, fall and then winter. Winters are harsh. Snow will last 6 months. Then there's the other season, the spring, summer and fall season is paradise. The peak of summer climate is quite possibly the best weather on earth.
West Yellowstone is a great base camp for your lodging and excursions into Yellowstone National Park. It is literally the west entrance to the park and the closest town to Yellowstone's major attraction, Old Faithful 32 miles away.
Like all the gateway communities, West Yellowstone is a key partner community to Yellowstone National Park. In 2010 and 2011, record numbers of visitors (over 3 million) came to Yellowstone. The park has some excellent lodges put not near enough to accommodate these kind of numbers. West Yellowstone has the largest amount of lodges of all the communities and in large visitation years, the gateway communities are a welcome partner.
Visitors will have plenty to do while in West Yellowstone. The Grizzly Wolf and Discovery Center is a great opportunity to learn and view grizzly bears and gray wolves. Though captive it is a great experience for the family and those wanting to see and learn about these predators up close and it'll help you appreciate them if lucky enough to spot them in the wilderness of Yellowstone. The preserve also has many other programs to educate you on other creatures you might see in the park so check it out they're open every day of the year, children under 5 are free.
A great option when you get back from an all day excursion into Yellowstone National Park is to go to the movies. This is no ordinary theatre, the Yellowstone IMAX screen is 6 stories high and a great experience. Two of the movies to check out are "Yellowstone" and "Lewis and Clark". We bought the Yellowstone Imax DVD and viewed it at home but somehow it wasn't the same, I wonder why?
Yellowstone Historic Museum
Check out how the history of Yellowstone's largest gateway community came to be. Exhibits include trains, planes, stage coaches, garbage dumps and fly fishing. Not exactly the Museum of the Rockies but most visitors won't be traveling from all over the world to stop here. It's pretty much the history of West Yellowstone.
Like all the gateway communities, West Yellowstone is an outdoor mecca. Through the years it has been dubbed the fly fishing capital of the world and also the snowmobiling capital of the world though the later is not as popular as during its 2 stroke heyday.
Fly Fishing
The fly fishing is indeed world class. Here's why. It's a natures brew concocted of huge snow levels born from the heart of the Rockies that create a constant never ending water flow from massive rivers to the tiniest alpine stream. At the heart of this source is the largest alpine lake in North America, Yellowstone Lake. Next is the unique geothermal features created from the Yellowstone Caldera. These thermal vents provide the necessary year round temperature to keep all aquatic entomology and plant life thriving while surface air during the winter can reach -50 deg F. The H2O in and around West Yellowstone and the Park is one of the best nutrient rich water found anywhere on earth. This special brew provide virtual food factory for the lucky trout that inhabit these waters. Fly fisherman love trout! There's a reason some of the best fly fisherman in the world live in and around West Yellowstone Montana.
Hiking and Biking
The trails around West Yellowstone are spectacular yet secluded. The forest service does a great job in maintaining new and old logging roads that have turned into world class mountain bike trails. You can begin your ride right from your lodging in West Yellowstone at 6'600' and steadily climb to the top of the Rockies to over 10,000' and there's a good chance you'll have it all to yourself with and exception of some local inhabitants with sharp claws and teeth. Pack some bear spray. A good source for mountain biking is Kelly and Melissa's "Free Wheel and Heel"

Hiking is great anytime in West Yellowstone just be sure to hike or jog the lesser used forest service roads. Roads like the Madison Arm, Denny Creek etc. where the speed limit is 35-40mph is not conducive to the pace of the slow jog or hike. It's not that you can't it's just the road dust that you'll encounter makes it more than unpleasant. A good tip for any hiking or biking in the Rockies is seek out forest service trails not forest service roads. Your hiking options are much better in Yellowstone National Park where vehicles are prohibited on all trails.
Boating
Within a short drive from West Yellowstone are some excellent boating opportunities. Hebgen Lake might be your first choice however it is worthwhile exploring the lesser known lakes like Quake, Cliff, Wade, Henry's, Island Park and of course Yellowstone Lake. All these lake will thaw out gradually in sync with the early spring temperature. By June they are ripe for boating however check the Regs. before launching most have specific rules.
Photography
West Yellowstone is a great destination and some professionals call it home. Professional photographers and in my case cameramen that shoot EFP style for nature/wildlife/fly fishing, the gateway communities is a necessary home base to provide a lifetime of subjects for the world to see. It is a way to help promote what Yellowstone and the National Parks is all about. Digital and video photography. The outdoors photography opportunities are unlimited around West Yellowstone. As a professional digital cameraman, I have been contacted many times for footage of a wildlife scene specific to Yellowstone. My standard answer (depending upon season) is give me 1 day. The point is for nature and wildlife enthusiasts, the greater Yellowstone region is the best in-tact ecosystem in the lower 48 states to obtain any nature photo. If your looking for the city fashion style of photography you're in the wrong place.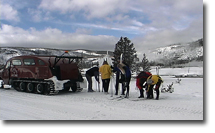 Winter Activities
As fall carries over to winter, West Yellowstone slows down until the winter snows settles its grip on everything. Most critters have retreated with the natural instinct of run or die. It's good advise except for those who cherish the next six months. Two diverse groups now welcome and seek out West Yellowstone. Snowmobilers and Nordic Skiers. There was a time when snowmobilers ruled not only West Yellowstone and the caldron of Yellowstone. But time, ecology and some say greed has diminished this 2 stroke empire. Regulations now prohibit much of the free flowing access in Yellowstone National Park and now only limited vendor guided 4 strokes snowmobiles and snowcoaches are allowed. You can however continue to use or rent snowmobiles (2 or 4 strokes) in and around West Yellowstone's famous trail system and the city streets are still snow groomed.
During early winter, West Yellowstone has been home for many years to the worlds elite winter athlete. No were not talking about snowmobilers, West Yellowstone is the early training ground for members of the U.S. Nordic Ski team. Tribute to the consistency of the snow in West. West Yellowstone has a great nordic ski trail. It is a what all nordic skiers want. 35 kilometers of perfectly groomed trails. At over 6,600' and temperature rarely rising above freezing, nordic athletes no scheduling a West Yellowstone training trip is a no brainier.
To sum up what makes West Yellowstone different than the other gateway communities. It has everything but what makes it truly unique is all your favorite activities are close. Your not spending your precious time traveling great distances.