Yellowstone Lodging - Cooke City Activities
Cooke City / Silver Gate is the smallest town of all the gateway communities but to many visitors it is perfect. Cooke City is 4 miles and Silver Gate is 1 mile from the Northeast Entrance. Since they're so close together with a total population of under 150, we'll defer to the larger town and consider Silver Gate the same.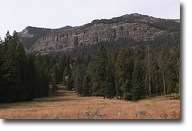 In the mid 90's Cooke City received a revival since its early mining days. It came in the form of wildlife or to be more specific, wolves. Since the reintroduction in 1995, the Lamar Valley region has consistently been home to Yellowstone's largest wolf packs. Cooke City is about 12 miles to the heart of Lamar Valley and the best wolf watching area in the park. Not sure how the old time elk hunters that have been making Cooke City base camp for decades feel about that but it seems like an awkward situation.
In winter, Cooke City turns into snowmobiling mecca and it would be another West Yellowstone if it wasn't for the distance one must travel with trailer in tow. The payoff for snowmobilers is some of the best powder riding in the country. For the cross country skier, there is a groomed ski trail and a rental shop in Silver Gate.
As spring settles in, the wildlife return from their winter exodus and hibernation. Cooke City is busy preparing for the next season as wildlife watchers and specialists anticipate what the new year will bring. Spring and early summer is a great time to stay in Cooke City if your a wildlife photographer or filmmaker. Driving the Soda Butte to Slough corridor is a popular strategy. You can also stretch your legs and explore off road, however word of warning, watch where you're going not so much of the ever present wildlife danger but you may here the wrath of wildlife watchers even if you're a good 1/4 mile from an unintentional encounter.
Summer and fall will bring out the next wave of visitors. These visitors have little care about the wolf pack on a carcass or grizzly with cubs near the next turnout. These visitors are here for one thing only. To catch cutthroat / cuttbow trout. The Lamar, Soda Butte and Slough Creek becomes alive with fly fishers. It would be nice not to see so many guided trips in this area but you can't blame them. Just like Tour Guide, Rafting Guide, Outfitters, Fly Fishing Guides have to make a living too. Makes you wonder exactly how many families in these gateway communities rely on Yellowstone National Park.
If you get the chance to arrive to Cooke City from the east, you'll be arriving via 2 spectacular routes, the Beartooth Highway and the Chief Joseph Scenic Byway both are spectacular approaches to the Northeast Entrance to Yellowstone National Park.
To sum up, what makes Cooke City different than the other gateway communities? It's the smallest community so there's always a sense of privacy when staying in Cooke City / Silver Gate. There's also convenience. Cooke City / Silver Gate is a perfect base camp for visitors seeking some solitude, for the enthusiastic wildlife watcher and for the professional photographer/cameraman.