Yellowstone Lodging - Cody, Wyoming Activities

Cody, Wyoming can be described as your prototype Wyoming town albeit with a few surprises. Although it is 52 miles away,it is considered the East Entrance to Yellowstone National Park. In between the East Entrance and Cody is East Yellowstone Valley or Wapiti Valley. This road is known as the Buffalo Bill Scenic Byway. The Shoshone River runs along this scenic stretch of highway along with many wildlife and unique rock formations. It is a truly scenic part of Wyoming. If you plan on being somewhere specifically in Yellowstone, plan on being late because you should take your time and enjoy this drive.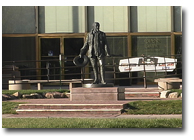 Museums
Cody, Wyoming is what you thing a Wyoming town should look like. It has two distinct world class "things to do: The Buffalo Bill Historical Center and the Cody Stampede Rodeo. Your first thought about the museum is "Do I really want to see a museum on the history of Buffalo Bill?". Yes there is a small wing there dedicated to the town of Cody's namesake however, as if this wasn't enough, the rest of the museums is World Class. If you have any interest at all in western art, culture, western firearms and artifacts you'll want to spend at least an entire day there.
Buffalo Bill Museum - Everything in Wild Bill.
Plains Indian Museum - Culture, art, artifacts and traditions of the Plains Indian
Whitney Art Gallery - Western Art by some of histories finest.
Cody Firearms Museum - The most comprehensive collection of American firearms in the world.
Draper Museum - All about nature in Yellowstone
McCracken Library - Excellent library on the American West.
Rodeo
Cody, Wy bills itself as the "Rodeo Capital of the World". Cody is one of the major stops on the professional rodeo tour and offers some of the largest prize money. Cody is also part of the Extreme Bull circuit offering a shot at $50,000 for toughest rider. Cody has 88 rodeo night events.

Recreation
Fly Fishing - There are a few great opportunities to fly fish around Cody. Your best chances are the Shoshone River and the Clarks Fork of the Yellowstone. The branches of the Shoshone to check out are the North Fork, South Fork and the Lower Shoshone with the North Fork being consistently the best. Since the North Fork is so close to Yellowstone it is advisable when fishing these rivers to bring bear spray. You'll often find long stretches all for yourself and it is difficult not to constantly look over your shoulder. Due to limited access on the Shoshone, drifting to spots is preferred similar to the boating methods on the Big Horn. Crowds won't be a problem like the big rivers of Montana so you won't need to use combat tactics.
Golf and Shooting - Cody and Jackson are the only 2 golf courses in the gateway communities. The Olive Glenn Country Club is an 18 hole championship course with bar and grill. Cody also has a unique shooting complex for members and non-members. The Cody Shooting Complex has a rifle and pistol range for non members and members have use of the indoor trap and skeet facility.
Hiking - Throughout the Cody area is an excellent hiking trail system called Cody Pathways. It links to the many parks throughout town
Paul Stock Aquatic and Recreation Center
Gymnasium housing three full-length basketball courts and a suspended walking and jogging track
Cardiovascular and weight training exercise equipment
Multipurpose space for meetings, classes and programs
Aquatic center with 8 lane x 25 yard lap pool with diving well, therapy pool, leisure pool, water slide, jacuzzi spa, and wet steam room
Two enclosed courts for racquetball, handball, wally ball and squash
Child care area
Food and beverage concessions

Towel and locker rentals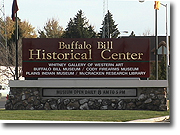 To sum up what makes Cody, Wy different than the other gateway communities. Cody truly believes in taking care of its community. There are over 20 developed parks and 9 miles of hiking trails in and around town. This provides a stress free openness to the town and perhaps is one of the reasons Cody feels more like a small western town than a tourist destination. It also has the cultural uniqueness of their world class museums. All this for a small western town of under 10,000 residence. I'm sure somewhere the Colonel is smiling.