Yellowstone Lodging - Yellowstone National Park Activities
Yellowstone National Park is the world's first national park with over 2.2 million acres of pure outdoor adventure. A record number of visitors come to Yellowstone each year from all over the world with good reason. Yellowstone is unique to national parks. It has so variety much to offer each visitor. Here is a brief fact list:
- 2.2 million acres of natural wilderness from its original "discovery" to this day.
- Geology - Yellowstone is one of the world's largest calderas with over 10,000 geologic thermal features and over 300 geysers. It has over 300 waterfalls, the 308' Lower Falls of the Yellowstone River is one of the most spectacular views in the world
- Yellowstone has one of the world's largest petrified forests.
- Wildlife - There are around 100 wolves which numbers fluctuate each year. There are 7 species of ungulates including elk, moose, bison and pronghorn, 2 species of bear, the grizzly and black bear, and over 60 other mammals, over 300 species of birds, 16 species of fish.
- Plants - With a Serengeti population of wildlife, they need something to survive. Yellowstone is home to over 1,100 species of plant life
- Yellowstone Lake is the largest high altitude lake in North America with over 100 miles of shoreline.
Now that you have a brief geologic reason why Yellowstone is so popular, here is summary of must see wonders to visit. It is best to devote 2 to 3 days minimum to visit these sites. We list them by popularity (wow factor). Keep in mind these are just a partial list of geologic features. On your way to each destination, be aware of wildlife and use the turnouts. It is illegal and downright rude to stop your vehicle in the road. The wildlife is the soul of Yellowstone and there are millions of visitors each year that come to Yellowstone just to catch a glimpse of grizzlies, wolves, bison and other inhabitants.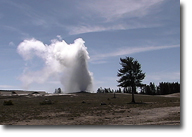 Old Faithful
Most people don't know that it is not the largest geyser. It is not the most frequent geyser and it may not even be the most spectacular. One thing is for sure, Old Faithful is the world's most famous geyser. It has earned its credibility from the first day it was discovered in 1870 and it certainly was instrumental in helping Yellowstone become the worlds first national park.

Due to constant seismic activity, you cannot set your watch to Old Faithful, however it is faithful enough to approximate it's eruption time (90 min). Its average burst is around 145'. The visitor center at Old Faithful keeps close tabs on its next eruption to check in while your there.
Artist Point and Inspiration Point
Spectacular view of the Grand Canyon of the Yellowstone and the Lower Falls of the Yellowstone River (308'). If you're lucky enough to arrive just after a light shower and it's partly cloudy with the sun beaming through, the canyon walls will provide a live high dynamic range show that only nature can provide.
Upper Geyser Basin
This geyser basin alone provides 20% of the geysers in the world. It is laced with a boardwalk that is advisable and illegal to step off of. There are certain must-see geysers in this basin and the visitor center has a eruption time list you can somewhat plan your hike with. You can literally spend days just exploring this basin alone but if you're pressed for time, then put these on your list. keep in mind while visiting these specific geysers, you'll see many others on the way to satisfy your geyser fix.
- Old Faithful - Since the eruption time is so reliable, you can work around this to coincide with your hike.
- Beehive Geyser - One of our favorites due to it's jet stream eruption that can reach up to 200'. It's a bit unpredictable however it does have a indicator geyser nearby to give an alert on when Beehive is coming.
- Grand Geyser - Spectacular and somewhat predictable. Grand erupts up to 200' and can be considered more impressive than Old Faithful.
- Castle Geyser - There's no mistaking when you approach Castle Geyser. It's located close enough to Grand and Old Faithful to see all 3 at once though unlikely. Like most geysers, Castle Geyser has 2 distinct phases, a water phase and a steam phase. Castle erupts to 100' during it water phase followed by its equally impressive steam phase. But hold on Castle has a 3rd phase, its roaring phase which comes immediate after the steam. The nature of Castle's hollow cone gives Castle a distinct roar.
Daisy Geyser - One of the most reliable of the Big Geysers, Daisy Geyser erupts every 2 hours to 75'. Unique to Daisy is its angled eruption and surrounding mineral deposits.
Riverside Geyser - Another geyser that is very predictable though unique because of its riverside location. Riverside Geyser erupts to 75' and you can often find Bison enjoying its solitary location
Great Fountain Geyser
Located in Firehole Lake Drive and quite the possibly the most spectacular geyser in the park perhaps due to its solitary location or predictable massive eruption up to 150'. Great Fountain Geysers eruption time (10-12 hrs) is usually posted at the Old Faithful visitors center and worth the wait.
Fountain Paint Pot
Nearby Old Faithful and Upper Geyser Basin is Fountain Paint Pot. These unique geothermal features have it all. It is a mixture of geysers, hot springs, steam vents and mud pots all on nice short boardwalk hike. Rotten eggs smell no charge!
West Thumb Geyser Basin
If West Thumb Geyser Basin were located anywhere else in the world it would be a world heritage site, a geologic wonder instead it is another underrated basin in place of unique wonders around every corner. West Thumb Geyser Basin sits on the shores of Yellowstone Lake. This jewel of a geyser basin has it all in brief spectacular scenic walk. It has geysers, crystal clear pools, cones, paint pots, fumaroles, grazing elk and bison and cutthroat trout all with Yellowstone Lake and the Absaroka Mountain Range as a backdrop.
Yellowstone Lake
The largest alpine lake in North America at 7,700', 136 sq. miles and 110 miles of shoreline is difficult to comprehend and even more spectacular when your feet is standing on its shore. It is Lake Tahoe when John C Fremont first set his sight on it. Yellowstone Lake is another geologic wonder that would be a world destination and most likely highly developed were it not located dead center of the worlds first national park. As a visitor it should be your destination to cruise the shoreline and watch for bears foraging after a heavy spring or prior to the deep hibernation of winter. Yellowstone Lake was once home to thousands of thriving cutthroat trout, trout the grizzly heavily relied upon from waking a deep winter sleep. Now due to the "recent" invasion of lake trout, the cutthroat numbers are in huge decline and efforts are underway to stop the extermination of this valuable resource. Yellowstone Lake has another unique feature, the Yellowstone River originating out of the Absorakas. Yellowstone River continues out of Yellowstone Lake and flows for almost 700 miles. To this day it is still the longest free flowing river in the lower 48 states.
Hayden Valley
In between 2 great destinations the Grand Canyon of the Yellowstone and Yellowstone Lake lies Hayden Valley. Hayden Valley is 7 miles long and is one of Yellowstone's most scenic valleys. Depending upon season, time of day and just sheer luck, this is one of your best opportunities to spot grizzly bears and/or wolves. You're almost guaranteed to see bison and elk so keep a sharp eye out for the predators.

Mammoth Hot Springs
Mammoth Hot Springs is home the parks service headquarters. You will also find lodging, restaurants, visitor center, hospital, gas station, bison, elk, owls and sometimes wolves. Mammoth practically has it all however the main attraction is at the Upper and Lower Terraces.
You have the option of walking up or driving and walking down the terraces. If walking up you can begin at Liberty Cap. Be sure to check out Minerva Terrace and the other springs while on this walk.
Tower Fall
The Tower fall area has all the amenities especially an ice cream store, brilliant for those hot afternoon hikes however the main attraction is Tower Fall an nice picturesque 132' waterfall. Tower fall begins at the parking lot and is a fairly steep hike of about 1 mile round trip. The Tower fall area has a few nice hiking trails but make sure to have bear spray in the spring. This area is a primary hangout for both grizzly and black bear.

Lamar Valley
The valleys of Slough Creek, Soda Butte and Lamar Valley have reached legendary status and is home to some of Yellowstone's largest wolf packs. Wolf watchers from all over the world migrate to this scenic corridor. Early and late season is your best opportunity to spot wolves and grizzlies. You can often see wolf watchers well in advance as you travel back and forth looking for the sign of a pack on a kill or chase an elk herd. Binoculars or a good spotting scope and tripod is a necessity and if your courteous to the professional cameraman you may get a good glimpse at some wolves up close and personal.