Yellowstone Lodging - Jackson Hole, Wyoming Activities
Even before Yellowstone National Park was enacted, Jackson Hole, Wy was a major rendezvous destination for mountain travelers throughout the west. It continues this tradition to this day only now you're going to need a few more beaver pelts to trade. Jackson is the South Entrance to Yellowstone National Park ... well sort of. In between Yellowstone and Jackson is something to behold, a jewel on its own, one of the great National Parks, Grand Teton National Park. With many thanks to John D. Rockefeller. The combination of Yellowstone and Grand Teton National Park back to back makes this greater Yellowstone Ecosystem the greatest natural treasure in the world as witnessed by record numbers of visitors each year.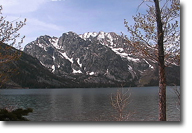 Recreational activities in the Jackson Hole area is very similar to Yellowstone itself with a few twists. Like the rest of the gateway communities, Jackson Hole relies on tourism only not so much on the attraction of Yellowstone after all they have their very own National Park. In addition Jackson has its own ski resort and golf course. In many ways Jackson is like Aspen or Vail that happens to sit next to Yellowstone National Park. The town itself is small and accordingly the realty is through the roof. The town is laced with fancy shops and galleries. The cuisine matches the taste of the visitors it draws. As you can expect, things are expensive here. Still though, nature doesn't care how wealthy you are. You can take a photo, climb a mountain, fly fish a river, ride a mountain bike through out the Teton's just like any other wealth part time local. Here's a brief rundown on the recreational opportunities around Jackson Hole.
Boating and Rafting
Rafting down the Snake River is high on the list when visiting this area. There are a dozen or more outfitters that will accommodate you. The scenic floats will take you through Grand Teton or South Pass and offer plenty of opportunities for wildlife shots. If the temperatures warm enough ask for the Big Kahuna float to cool you down. Boating is permitted on Jackson Lake and Jenny Lake and canoes or rafts on Leigh Lake, Phelps, Emma, Matilda, Two Ocean, Taggart, Bradley, Bearpaw and String Lakes
Fly Fishing
This highlights the fact that even though every gateway community has the basic recreational opportunities in common, each one still has something different to offer. Fly fishing the Jackson area is not quite the same as West Yellowstone. The Snake River is the fly fishing in Jackson. There are places like Flat Creek, Gros Ventre, Upper Gro Ventre River and the Hoback but the peak season is limited and you may be traveling from Jackson to fish some peak hatch waters. Another event to bank on is hoppers in late August on the Snake for large cutthroat.
Climbing and Hiking
The Teton's is your world class destination for both hiking and climbing. Exum Mountain Guides has been operating for 80 years and knows every crack. They're your best opportunity for a successful summit and come back unscathed. Some of the best hikes in this ecosystem is around the Teton's. Some notable trails are Valley, Marion Lake, Granite Canyon and the Teton Crest Trail.
Photography
If you enjoy nature and wildlife photography then Jackson Hole is as good as it gets or to be more specific Grand Teton National Park and why wouldn't it be. It is after all an extension of Yellowstone. Here's some money shot locations that can make any photographer look like a pro: Sunset at the Snake River Overlook, sunset at the Mormon Row barns, sunrise at Schwabacher Landing and Oxbow Bend. These same area are excellent for wildlife. In early spring there is more of a concentration of moose here in the Teton's than Yellowstone, bears and owls seem to be around here earlier than the usual late spring locations in Yellowstone.
Winter
Jackson is the only gateway community to boast not only 1 but 2 ski resorts although technically there is a ski resort closer to Yellowstone than Jackson, that is Big Sky, MT but since our focus is on gateway communities we'll finish the details on Jackson skiing. Some of the resorts highlights:

Jackson Hole Mountain Resort - $60-$90 Adults Day
- 100 passenger tram
- 4,139' vertical
- 4.5 mi. longest run
Snow King - $41 Adult Day
- 1,571' vertical
There are 3 Nordic Center in Jackson. The Jackson Hole Nordic Center, Spring Creek Ranch Touring Center, Teton Pines Resort & Ski Center
Wildlife Elk Refuge
This refuge in Jackson Hole is a 25,000 acre range for wintering elk. Elk use this refuge for 6 months which sounds about right since winter in the Yellowstone Ecosystem is 6 months. For 2 1/2 months the receive feed from management. This Jackson elk herd in the refuge is about 7,500. There are 4 winter viewing locations on the refuge, Refuge Rd, Miller Butte, Flat Creek Pull Out and Hwy 26. The Jackson Hole Elk are the longest herd of migrating elk in the lower U.S.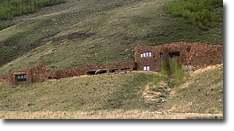 Museum
If you enjoy the art galleries in Jackson, then check out the National Museum of Wildlife. Most of the artwork in the museum features exhibitions on wildlife, nature and the american west. The museum's permanent collection of over 5,000 items include sculpture, paintings and works on paper by over 100 popular early American tribe and contemporary artists. There are 14 galleries to browse including:

- Wapiti Gallery - Local landscapes and wildlife
- JKM Gallery - Early western artists like Bierstadt, Russell, Catlin etc.
- American Bison Gallery - Bison artwork chronicled during the 17th, 18th and 19th century.