Yellowstone Lodging - Gardiner, Montana Activities
Gardiner Montana is the North Entrance to Yellowstone National Park. At an elevation of 5,300' it has a high plains feel to it and has the mildest climate of all the communities. Gardiner is the first town that the mighty Yellowstone River flows through in its 692 mile epic journey.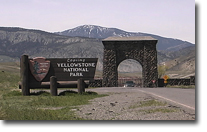 Gardiner is best noted as home base for wildlife watchers and Yellowstone Park employee residence since park headquarters, Mammoth Hot Springs, is just 5 miles up the road. Probably Gardiner's most famous landmark is the Roosevelt Arch dedicated by President Theodore Roosevelt in 1903. There is an actual cornerstone placed by Roosevelt with a few mementos of the period. When entering Yellowstone National Park you can't miss it, the Arch is literally the gateway to the park and probably is the first Yellowstone photo taken by the hundreds of thousands of visitors entering this gate each year.

Rafting
Gardiner is known as the only gateway community open year round. This allows winter access to some of the best winter wildlife viewing in Yellowstone. The roads are open to Cooke City providing a great opportunity to view wolf packs in winter. Gardiner is also a great place for rafting though if not experienced or familiar with Yankee Jim Canyon it is advisable to go with one of the local outfitters. There are class 4 rapids and probably worse during peak runoff. In fact it is had to find any detailed information on floating this stretch. Most of the rafting companies mention how much fun you have but none mention the dangers if you're inexperienced and attempt the Canyon. We'll flat out tell you now ..... DON'T. There are long stretches were it is scenic and safe however, many inexperienced rafters just "wing it" and make the headlines the next day.
Photography
As mentioned, the access to wildlife viewing in Yellowstone especially during winter is exceptional if you keep in mind that the hobby of wildlife watching relies more on luck and persistence than anything else especially when your out for predators. Around the town of Gardiner, you will find bison, elk and pronghorn fairly common. For scenic shots there's nothing special here. This is not Jackson Hole so you'll have to be more creative but with a little drive there's always the park. If you want early spring predator shots, than Gardiner is very high on the list since it's the closest gateway town to some of the best bear and wolves locations.
Fly Fishing
Your fly fishing opportunities depend on the time of year you're in Gardiner. It is highly seasonal relying on river flows. The best places are the Yellowstone and Gardner Rivers. Early season fly fishing requires traveling. By mid to late summer Gardiner is happening not so much the fishing around town but the fairly short commute to places like the Northeast area of the park, Lamar, Slough, Soda Butte etc.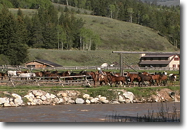 Horseback Riding
Gardiner has great outfitters for horseback trips into the park. From Gardiner there are a fair number of daily pack trips to the northern backcountry of the park. Horseback trips either multi day or daily offers a great opportunity to view scenery and wildlife, like anywhere else in Yellowstone, except you'll be alone with your fellow riders. It's worth mentioning that all the gateway communities have permitted Yellowstone outfitters that offer horseback trips and since the park is so vast, each outfitter has their own unique area they like explore. In essence horseback trips are the ultimate way to explore the park since you're out in the elements riding at a pace that's in sync with wildlife. You won't be running spooking or running over them so chances are much better at seeing critters that the road warriors miss.
To sum up what makes Gardiner different than the other gateway communities. Gardiner is a great staging town. Perfect for your base camp operation for daily excursions into the park. Unlike Jackson Hole, you can afford to stay for many days, there are some good restaurants with descent food and prices. It's not culture it's just plain Montana hospitality.